How I used a 0% APR credit card to pay for new floors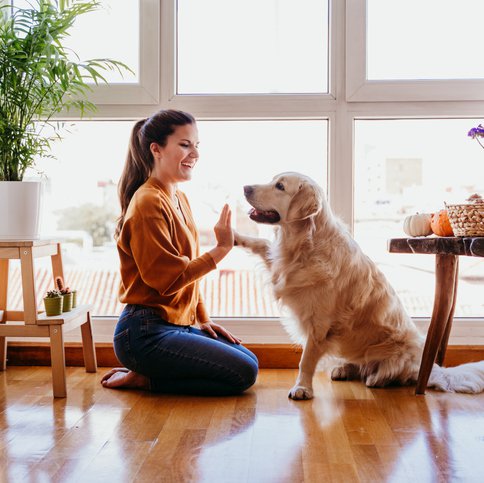 One of the benefits of a strong credit score is the ability to qualify for a 0% interest credit card.
A family that loves pets owned the house we bought three years ago. Neighbors say several large dogs lived in the house before we bought it – mischievous creatures who chewed on door frames, traded on carpets, and left deep scratches on the hardwood floors. No judgment here. My husband and I have been known to have complete conversations with our dogs. We understand what it's like to think of pets as full members of the family. We do not allow our dogs to misbehave, but it is impossible to know what was going on with the previous owners. They sold the house due to a divorce, so maybe life was too chaotic to control the four-legged friends.
By the time we first viewed the house it had been stripped of everything. The walls were freshly painted, scratches on door frames were hastily cleaned, and carpeting throughout the house was replaced. All I can say is that they had one smart broker. She knew the house would need a makeover if they hoped to sell.
She told them to get everything out of the house. There was no furniture, no photos, and no personal belongings when we showed through the property. They even cleared the 12 windows in the living room with blinds damaged by the dogs. Again, that was fine when we were house hunting. It allowed us to get a better idea of ​​the space and see all those little things that are normally hidden behind furniture.
Their agent told our agent she paid for many of the repairs herself and even replaced the carpet. She made a smart choice. It was a mix of neutrals, which certainly suited everyone's color scheme, and it wasn't expensive. Cheap, like the cheapest she could find at a local hardware store.
That carpet looked great for months after we moved in, then it started to shed and buckle. One day, while vacuuming the living room, I was shocked to see an entire piece tore away, leaving a hole the size of an orange. Our plan had always been to refinish the wooden floors that already existed in part of the house and replace the cheap carpeting with more hardwood. Of course we didn't think we should do it that quickly.
Some home improvement projects are hard to get excited about. For example, the replacement of our oven last year did not give me any kick. But hardwood floors – just that thought made my heart beat faster. I was a little concerned about the price, but I was comforted by the fact that installing hardwood can increase the value of a home from 3% to 5%. For us, that meant an increase of somewhere between $ 12,000 and $ 20,000. We live in an attractive part of town so I convinced myself it was probably closer to $ 20,000.
We have several savings account earmarked for different purposes. For example, we have an account for birthday and holiday gifts, one for vacation and another for medical expenses that are not covered by insurance or our Flexible Spending Account (FSA). We also have a savings account for household upgrades. At the time, however, we weren't able to afford the entire hardwood flooring project.
Within days of losing a piece of the living room carpet due to vacuuming, I applied for a credit card with a 0% APR promotional rate and was immediately approved. By the time we got a bid for the track and decided what kind of floor we wanted, our new map was in. To keep costs down, we decided to put hardwoods on the first floor only, with a plan to put them upstairs sometime before the summer of 2021. The upstairs carpet shows less wear and tear and will no doubt last (maybe) six or seven months. I paid for part of the job with money we had saved for household upgrades and put the rest on the card.
Here's the brilliance of a 0% promotional rate. We ended up with a $ 3,600 balance on the credit card with 18 months to pay it back, which equates to what would be equivalent to $ 200 monthly payments. personal loan instead and wanted it to be paid off in 18 months, the interest rate would likely have been around 6%. The payment would have been $ 210 a month and cost us $ 173 in interest, plus any fees attached to the loan. Or imagine we used a credit card with a standard interest rate (about 17%) and made equal monthly payments of $ 200. We would pay off the project in 21 months, but pay a total of $ 585 in interest.
Better yet, an unexpected bonus at work allowed us to pay off the credit card before the 18 months were up. However, if that "found" money hadn't turned up, we would have paid off the credit card in full before the interest skyrocketed to the normal rate.
While we didn't take advantage of the full 18-month promotional period, making monthly payments faithfully further improved our credit score. That's an advantage that can help us down the line. And because we make it a point to our debt-income (DTI) ratio low, we never had to worry that the extra debt would hurt our score.
The truth is, the stronger your credit score, the more options you have when you need to borrow money. If your credit isn't where you'd like it to be, there are surefire ways to do that increase your credit scoreIt may take time and effort, but the next time some of your carpeting gets sucked into your vacuum, or your central air conditioner sputters and dies, don't panic. Even if you haven't saved enough to cover the costs, you probably have access to some nice borrowing options, including credit cards with a promotional rate of 0%.
[ Sharing is Caring! ]
More Tags We Love
Balance Transfer Credit Card No Fee Fair Credit
Best Car Loan Rates For No Credit
Credit cards for no credit
Does The Government Have To Pay Back Debt
How Can I Find Out My Credit Score In Canada For Free
How To Cancel Transunion Credit Monitoring Service
How To Consolidate Debt Into One Loan
Treatment for blood clot in leg
What Is Conventional Mortgage Rates
Which Is Better Refinance Mortgage Or Home Equity Loan