5 things to do when medical debt gets overwhelming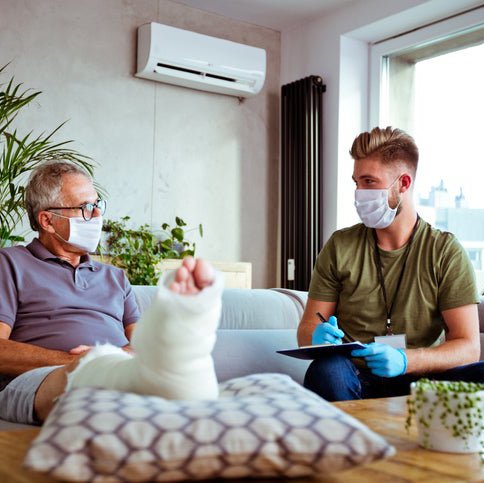 Here's what to do if medical bills weigh you down.
To say medical debt is a burden on millions of Americans is an understatement. The United States spends $ 3.8 trillion annually on medical care, and a three-day hospital stay averages about $ 30,000. According to the American Journal of Medicine, more than half of people filing personal bankruptcy cite hospital bills as the top reason.
So, what should you do when medical bills threaten to overwhelm you? Here, we provide five steps you can take when medical bills get out of hand.
1. View all accounts
Let's say you went to the hospital for a broken leg and were released from the emergency room after a few hours. That should be on your medical bills. If you look at your statement and see that the hospital has charged you for an overnight stay or services that you never received, you know that an error was made. Notify the hospital's billing department and, if you are insured, also notify your insurance company.
Medical bills are boring to read and confusing to understand. If you have any questions, please contact the billing department. It's your money and you deserve to know what you expect to pay.
Call your medical provider's office – be it a doctor's office or a hospital – and ask if you qualify for financial assistance. Most hospitals have a department dedicated to helping those who are unable to pay their medical bills. If you have a low income, check to see if your hospital is a nonprofit. Federal law requires nonprofit hospitals to provide qualified low-income patients for free or at a discount.
If you earn too much to qualify, now is the time to be brave. Explain that you have an invoice that you cannot pay and request a reduction in the amount due or forgiveness of the debt. Don't assume the sticker price is set in stone. It is possible that the healthcare provider would rather receive compensation than no compensation at all. They may also have a fund that can help you cover your bill or refer you to an organization that will help cover medical expenses.
3. Make a budget
If you don't already have monthly budget create one. Make sure your budget clearly shows your monthly income and all financial obligations. If you find yourself with a little extra left after all other bills are paid, you have an idea of ​​how much you can afford for medical expenses.
4. Keep track of your other accounts
No matter how much pressure you feel to pay a medical debt, keep paying your rent or mortgage, credit card bills, car loan, personal loan and other fixed expenses. These financial liabilities are reported to the credit bureaus and missed payments will hurt your credit score.
By law, credit bureaus cannot record negative information about medical bills until those bills are at least six months past due. In theory, this gives patients time to negotiate with their medical providers and insurance company. Ideally, you have a deal with your medical provider before then.
5. Work with a credit adviser
If it all feels too big to address alone, a trained credit counselor can negotiate with your medical provider on your behalf. One way to find a reliable emergency service is to contact the National Foundation for Credit AdviceThis organization has nearly 70 years of experience leading consumers to nonprofits that intervene, advise, and help you see past your debt.
The US is the only major industrialized country that does not provide healthcare to its citizens. Until the day policy changes, we are all responsible for protecting our health and finances. The best way to do that is to know where to find help.
[ Sharing is Caring! ]
More Tags We Love
American Credit Acceptance Payment Plan
Average Monthly Car Insurance For 19 Year Old
Credit Card Theft Charges Georgia
How To Insurance A Car
How To Remove A Credit Report Dispute
Lowest Auto Loan Rates For Excellent Credit
Online Graduate Degree Programs In Texas
Stage 4 Lung Cancer Survival Rates Without Treatment
Undergraduate Medical Degrees Australia
What Will Mortgage Rates Be In 2021 Uk